STAAD PRO- Features, Application, Working and Career Scope
STAAD Pro is a new tool for Civil Engineering Students which is in huge demand now a days. It is extremely scalable and easy to learn. It covers every facet of structural engineering that proves beneficial for civil/structural engineers. Structural engineering firms, structural consultants, departments in construction companies, and government agencies use this software extensively.
STAAD Pro stands for Structural Analysis And Designing Program. This Software is most used Software for civil Engineering designing. It is crucial tool in modern-day to research the design before construction. It is currently developed by Bentley Systems Inc.  
It was one of the earliest structural analysis and design software with a user friendly GUI and support for building codes. It's a 3d based designing software. It can make use of various forms of analysis from the traditional static analysis to more recent analysis methods –1st order static analysis, 2nd order p-delta analysis, geometric non-linear analysis or a buckling analysis. This software has added direct links to applications such as RAM Connection and STAAD Foundation. 
This software is widely used in analyzing and designing structures – buildings, bridges, towers, transportation, industrial and utility structures. It allows structural engineers to analyze and design virtually.
Design of steel and reinforced concrete buildings as per the codes of selected countries 

 

It is capable of analysing and designing civil engineering structures such as buildings, bridges, and plane

 

Improve multi-discipline team collaboration through desktop and cloud and mobile applications

 

This software can generate loads (wind and earthquake) as per building codes of selected countries.

 

It is developed with an open architecture called open staad

 

It has an open architecture

 

It has user-friendly package and graphical user interface.

 
This helps the engineers in improving the structure, section, and dimensions.

 

It does not involve any manual calculations

 

Faster method of designing a structure

 

It is suitable for almost all types materials including steel, concrete and aluminium

 

International country codes are available

 

This software contains all necessary tools require to design a structure.

 

It is based on the latest programming technology that enables to create exact 3D model

 

It is suitable for importing designs from AutoCAD

 

It shows the number of reinforcement used in longitudinally and Shear reinforcement

 

The results and output is robust get shear and moment values at every 1/12 th section of the

 member.

 

It offers precise and economical designs

 

It comprises some high-quality reports that allow engineers to share accurate info with their clients.

 
WHY STAAD PRO IS IMPORTANT FOR CIVIL ENGINEERING
STAAD Pro is a handy software for structural engineers to make accurate structural analysis and design. This program supports the analysis of different types of structural elements like bridges, flood gates and structural beams. Civil engineers with a structural background are suggested to learn supporting programs like STAAD Pro. Civil engineering  is structural engineering presently there is big demand in the market. It is specially designed for civil engineering purpose.
WHY STAAD PRO IS IMPORTANT
Multiple companies use STAAD pro in India –  
RGBSI

 

Alaska software training hub

 

HTS

 

Sgurr energy 

 

RSN Engineering and Construction pvt lt

 
Salary of an employee who knows STAAD Pro in India is ₹14 lakh/year.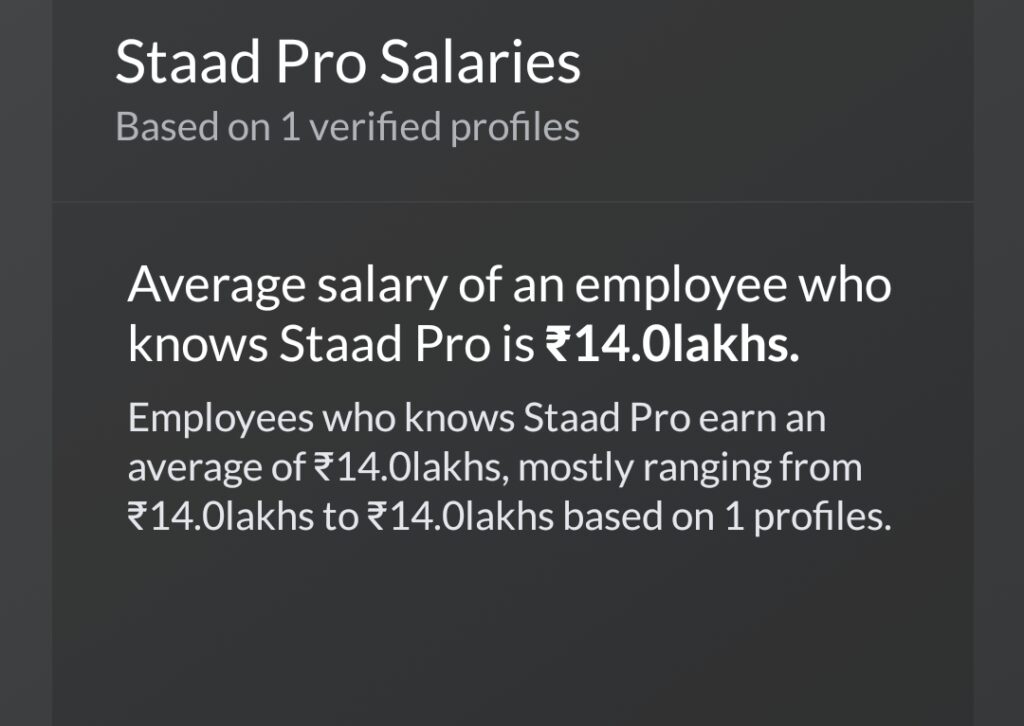 Structural engineers who know how to use STAAD Pro are in great demand for the jobs like – Structural Design engineer, Structure Analyst, CAD engineer. This is because the advent of increasing frequency of natural disaster that affect the buildings.