Everything about Autodesk Inventor
Authored By: Ankita Prajapati
A parametric and feature-based solid modelling tool which allows to convert the 2D sketch into a solid model using a simple modelling option. It is used across a wide range of industries; architecture, engineering, graphic design, management and others.
WHAT IS AUTODESK INVENTOR?
It is a 3D mechanical solid modelingdesign software developed by Autodesk to create a 3D digital prototype. It is a computer-aided design application, used for 3D mechanical design, tooling creation, product simulation and design communication. It brings the best mechanical, engineering and design productivity to a new level. This software enables users to produce accurate 3D models.
Join the CAD/CAM & Product Design community and elevate your design skills to new heights!
FEATURES OF AUTODESK INVENTOR
The features are given as follows:
Shape generator and parametric modeling  

Assembly modeling and drawing creation 

Collaboration and design automation  

Simulation 

Visualisation  

Model-based definition  

Multi-CAD translation capabilities  

Freeform modeling  

Mechanical concept and layout design 

Shape generator  

Stress analysis 

Design configuration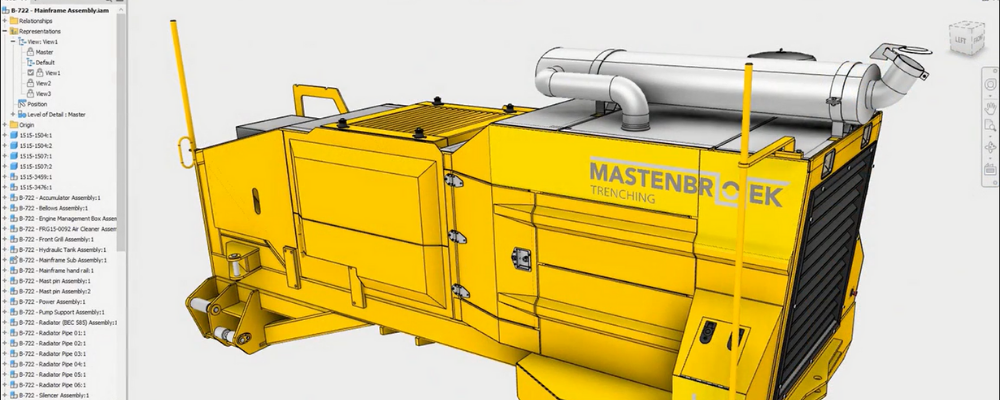 Join Engineering Communities and Events related to your Career Path.
BENEFITS OF AUTODESK INVENTOR
Parametric design automation is very easy to develop professional-looking blueprints based on 3D parts. 

Simulation  

It has a lot of different modules for different types of design  

It is very easy to use to create a realistic, solid design 

It includes additional features such as sheet metal design and mold design. 

It boosts the modeling process for tools and machine elements 

It is a great option for defining objects in digital space 
Join the vibrant Mechanical Engineers community
HOW AUTODESK INVENTOR WORKS 
It is a 2D and 3D CAD application that comes in different file types like IAM, DW, IPT and runs on both Windows and MAC systems. The point of CAD application is to present the modeling of physical objects and structures in 3D space and Autodesk Inventor is efficient at making these models look great. 
Join Engineering Communities and Events related to your Career Path.
WHY LEARN AUTODESK INVENTOR
Autodesk Inventor is specifically helpful for product design and simulation. The average salary of an employee who is skilled in this software is ₹17.8L/year.  
It is a brilliant specimen of a special program. It offers incredible capabilities that a CAD professional shouldn't ignore. Companies currently using this tool are : 
Honeywell  

 

Hubbell Inc.

 

Autodesk 

 

DailyCADCAM

 

RyBSI

 
Autodesk Inventor's wide array of features makes it a versatile tool. Currently the number of companies using it is 22,414 (source, google).The result of using this tool is faster development and swifter shipments of the product being modelled.